This post contains affiliate links to products. I may receive a commission for purchases made through these links, but I only recommend things that I would use myself.
I love Thanksgiving. It's one of my favorite holidays. It just got even better with this Leftover Turkey Shawarma Recipe. When we lived in the UAE, it was so special to invite our friends from other nationalities to come and celebrate with us. Our first Thanksgiving table overseas was seated with friends from South Africa, Venezuela, India, and the USA.
All politics aside, I love the concept of pausing the world, coming together to celebrate our blessings and thanking God for sustaining us for another year. There's nothing better than having an excuse to spend a whole day with some of the people that I love the most. And I love the food…for a few days.
Then, something strange happens. My happy turkey lovers can't bear the thought of another turkey sandwich. turkey noodle soup looses its luster and turkey pot pie might as well be liver and onions. That's why I invented my version of a Leftover Turkey Shawarma Recipe.
Transforming Thanksgiving Leftovers!
This is where my talents shine. I'm not the best housekeeper. My math skills are sufficient for an elementary teacher and my fashion sense is questionable, but I can take some old dried out turkey and make it a feast fit for kings. Today, the creation was leftover turkey shawarma.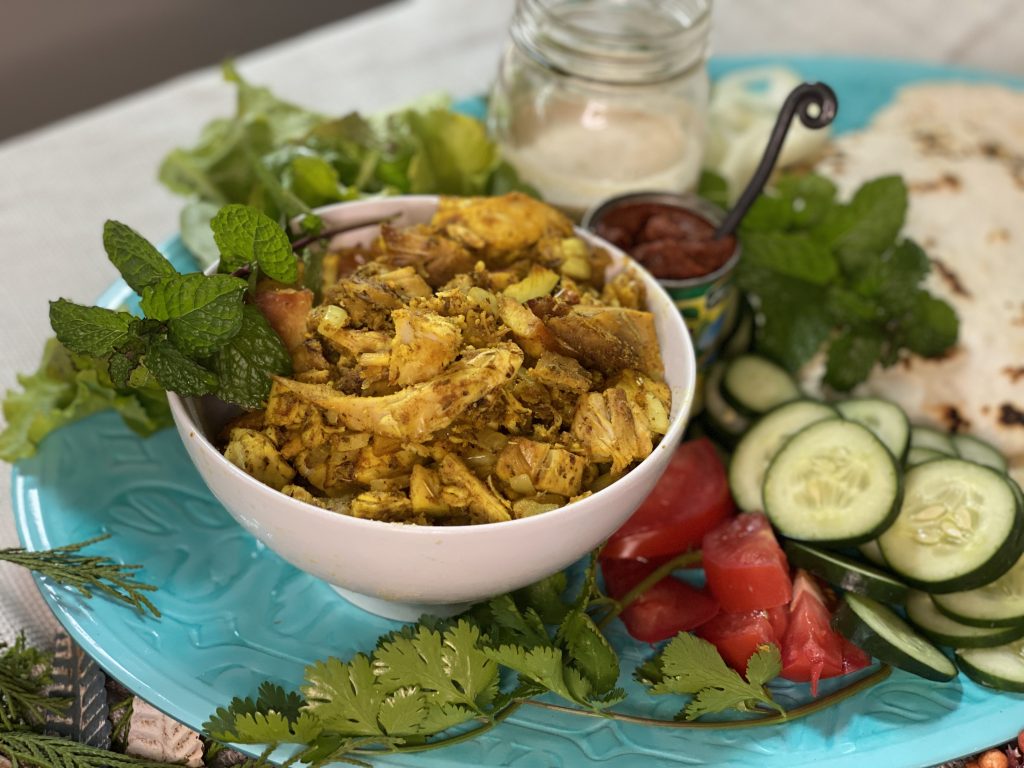 What should I do with Leftover Turkey?
The answer is simple! Make my Leftover Turkey Shawarma Recipe! It transforms into something special with just a few spices and common ingredients. Here is how:
Saute an onion in your oil or fat of choice. Take off heat.
Next, Add a Tablespoon each of Turmeric, Onion Powder, Garlic Powder, Dried Thyme, Dried Oregano.
Put in a teaspoon each of ground Cinnamon, Cumin, Coriander, Salt and Pepper. You can earn bonus points if you happen to have dried sumac to add to the mix, but it will still be delicious without it.
Add 2 Tablespoons of Olive Oil.
Then, Mix in 2 cups of chopped, cooked turkey (or any leftover meat).
Toss in a baking dish and bake at 425 degrees Fahrenheit until nicely browned
After you've achieved your level of browned perfection, sprinkle liberally with some lemon juice.
Serve flatbread style with tahini and veggies, on a salad or over rice.
Click Here for complete, detailed recipe.
Geography Lesson from a Spice Souk
Souk is the Arabic word for Market. An Arabic Souk is truly something to behold. In order to understand a souk fully, you must be a little versed on the local geography. The United Arab Emirates borders the Arabian Gulf.
My American readers will recognize this as the Persian Gulf, but it is not called that in the Middle East. Persia was once what is now modern day Iran. Many other countries border the gulf including Oman, The United Arab Emirates, Saudi Arabia, Qatar, Kuwait and a tiny piece of Iraq.
Iran has the biggest piece of the coastline, but it is still called the Arabian Gulf these days. It is also important to note the central location that these countries hold to Asia, the Western African coast and Eastern Europe. The gulf opens into the Indian Ocean which gives merchants a waterway directly to India and Zanzibar, Tanzania. Zanzibar also known as "The Spice Island."
The UAE is largely a barren desert. It's naturally inhabitable to agriculture, so therefore, in order for its people to eat, the country has always depended very heavily on trade. It's location made it perfect for this.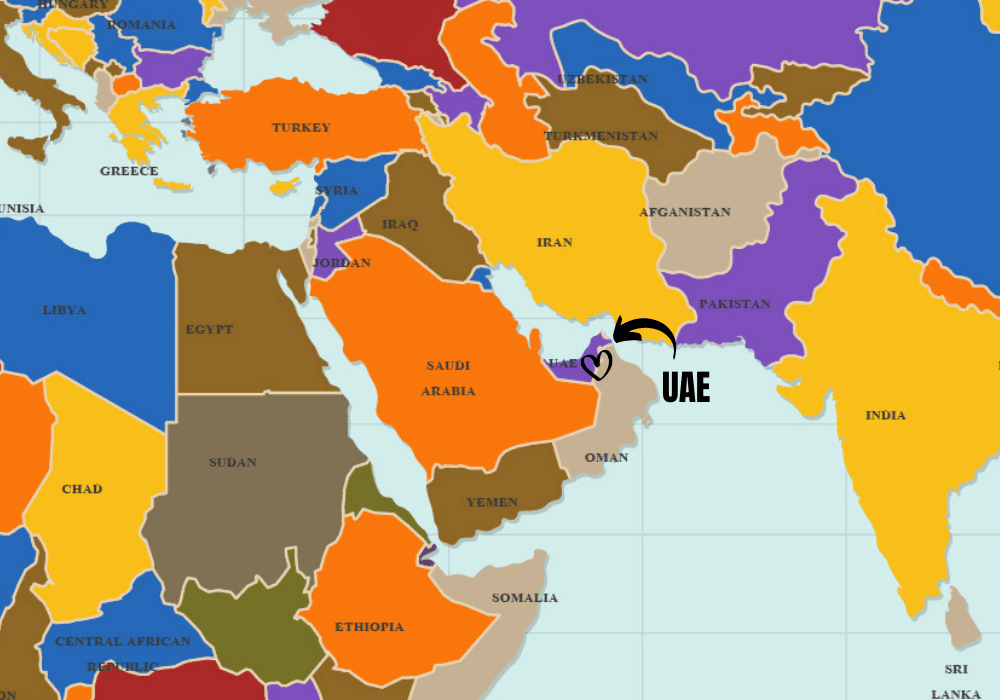 Olfactory Heaven
The UAE has many different kinds of Souks. There is the fruit and vegetable souk, the fish souk, the meat souk, the fabric souk, the gold souk and my favorite, the spice souk. The souk can be very intimidating and total sensory overload. It is helpful to take someone with you who has been before and knows the ropes.
You have people- mostly men, from many different surrounding cultures trying to get you to buy their wares. They will offer you their "best price" and a dozen reasons why their product is superior. For me, the pushiness was quite off-putting, but I could get past it for the pile after pile, burlap bag after bag and barrel after barrel of beautiful, fresh spices, herbs and chilies, many of which even I was not familiar with.
If there was a spice grown in Africa or Asia, it was there. I can't even begin to describe the smell to you. Every step offered you a different waft of cinnamon, clove, cumin and thyme. It was delightful!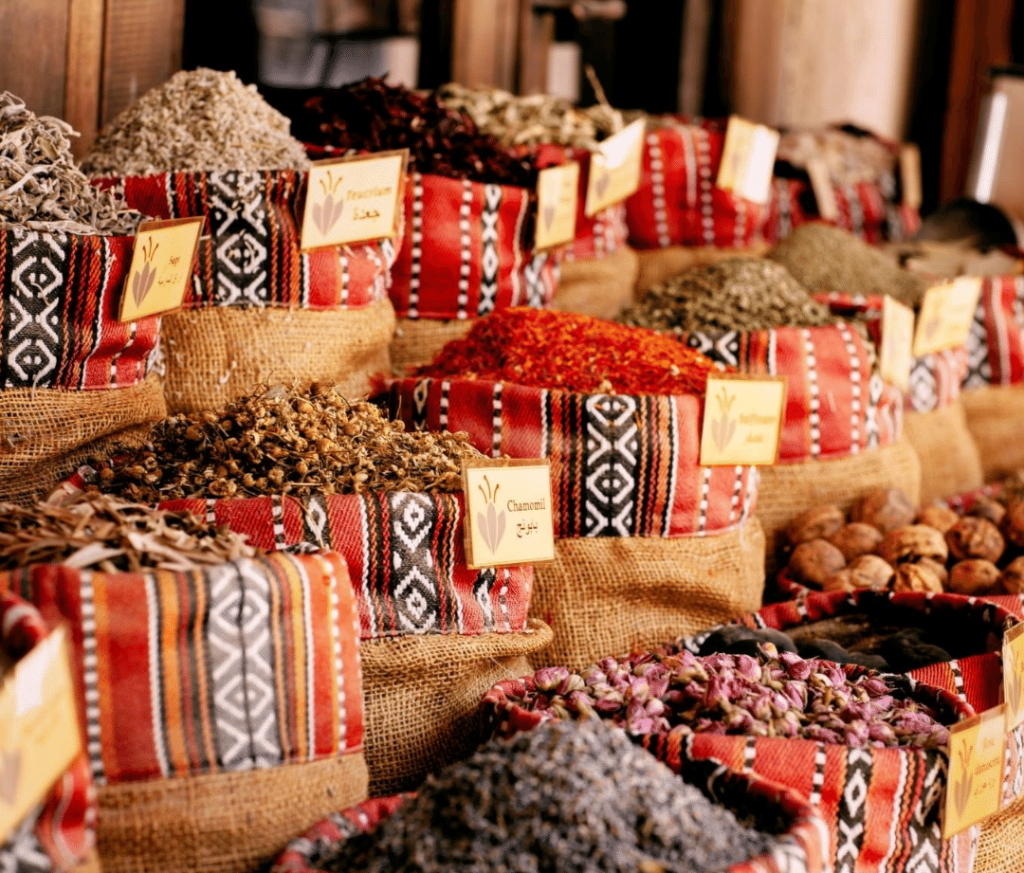 Levantine Cooking- Use all the spices
The availability of spices in the region greatly influenced Levantine, or Middle Eastern cooking. Similarly to Indian dishes, when you have so many incredible flavors, its hard to choose just a few. This is why many Levantine and Indian dishes are heavily spiced with a multitude spices. It is available and delicious!
Shawarma is a very common dish that exemplifies this concept. Cooks take whatever meat they have on hand, mix it with some onions, garlic, yogurt and whatever spices they wish, pile it on a large spit and roast it to splendid perfection. Shawarma varies greatly from region to region and from cook to cook, but you can be confident, it will be good.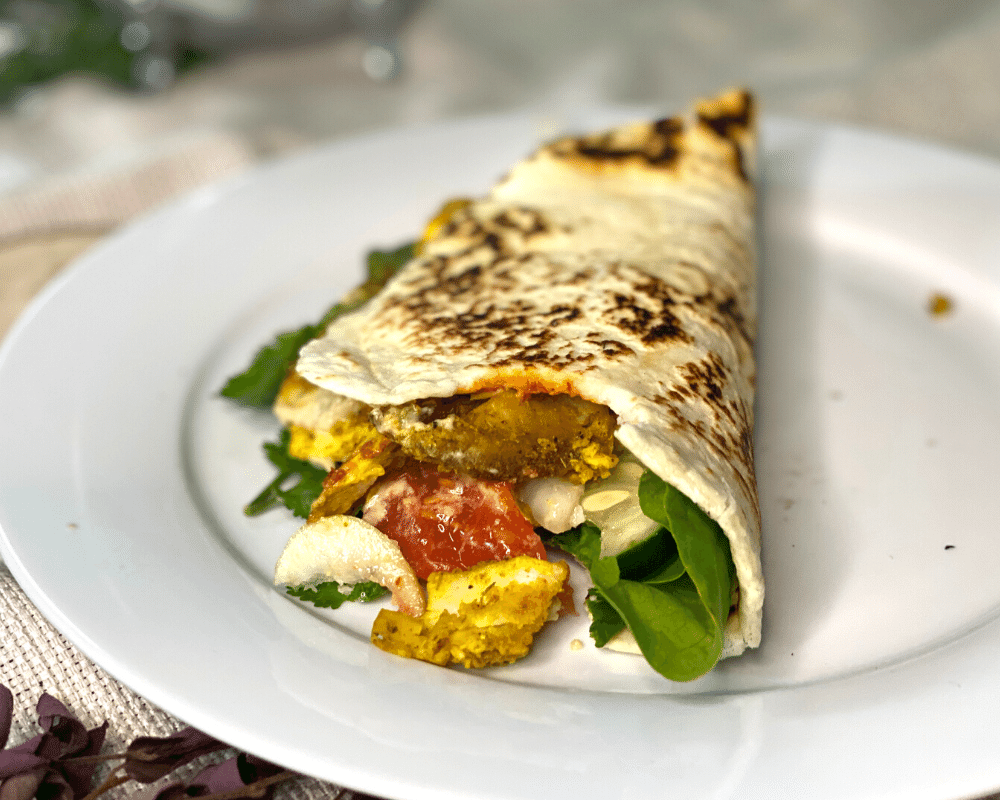 Bold Spices Lend themselves Well to Leftovers
My version of this Leftover Turkey Shawarma Recipe is simplified for the home cook and for giving a new identity to leftover turkey meat. Rest assured, what this recipe lacks in complication, it more than makes up for in flavor. Do yourself a favor, go grab your leftover turkey, raid the spice cabinet and make your day- Shawarma style. And don't fret if you don't have every spice listed, even with only half the ingredients, this will be good.
Yield: 6
Leftover Turkey Shawarma Recipe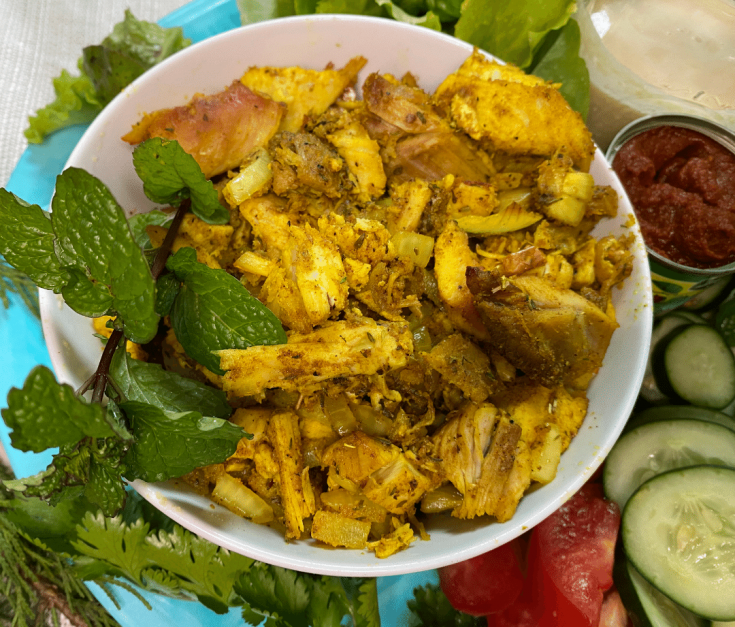 Transform your leftover turkey into a flavorful Middle Eastern dish perfect for Flatbreads, salads or rice
Ingredients
1/2 medium onion, chopped
4 tablespoons Olive Oil, divided in half
3 cups chopped, cooked turkey
2-3 Tablespoons lemon juice
Spice Blend:
1 Tablespoon Turmeric Powder
1 Tablespoon Onion Powder
1 Tablespoon Garlic Powder
1 Tablespoon Thyme
1 Tablespoon dried Oregano
1 teaspoon coriander powder
1 teaspoon cinnamon powder
1 teaspoon cumin powder
1 teaspoon salt
1 teaspoon pepper
*optional: 1 tsp. sumac powder
Instructions
1. Preheat oven to 425 F
2. Sauté onion until soft in 2 Tablespoons of oil. Remove from heat.
3. Add all spices to onion along with the remaining oil. Mix in turkey meat.
4. Transfer mixture to a baking dish and bake until nicely browned but not dried out or burnt- about 10 to 15 minutes.
5. Remove from oven and serve either as a wrap on a flatbread or tortilla, on a salad or with rice. Pairs especially well with fresh veggies, mint, cilantro, hummus, tahini and harissa.
6. Eat and enjoy. Share with your family if you are feeling charitable.
How do I serve Leftover Turkey Shawarma?
This recipe is fantastic on a flatbread or wrapped up in a tortilla. I like to pile mine with fresh veggies such as lettuce, tomatoes, onions and fresh herbs like mint and cilantro. It is almost perfection topped off with homemade tahini sauce and some harissa.
How do I store Leftover Turkey Shawarma?
This turkey shawarma meat can be stored in a sealed container in the fridge for a couple of days or can be frozen immediately for a few weeks, but I recommend eating it quickly- they are leftovers, after all.
A Well-Stocked Spice Cabinet
The key to transforming leftovers and being prepared to use up what you have on hand is to have a well-stocked spice cabinet. . The spices you stock will also be determined by the cuisines you prefer to cook and eat. This post outlines what I like to keep in my cabinet and what cuisines use each item.