I may receive a small commission for any items purchased through links in this blog. I am an affiliate for Amazon and Rose Mountain Herbs. These commissions are at no extra cost to you. They help me to keep producing more quality content on this blog. To learn more, please read my affiliate disclosure here.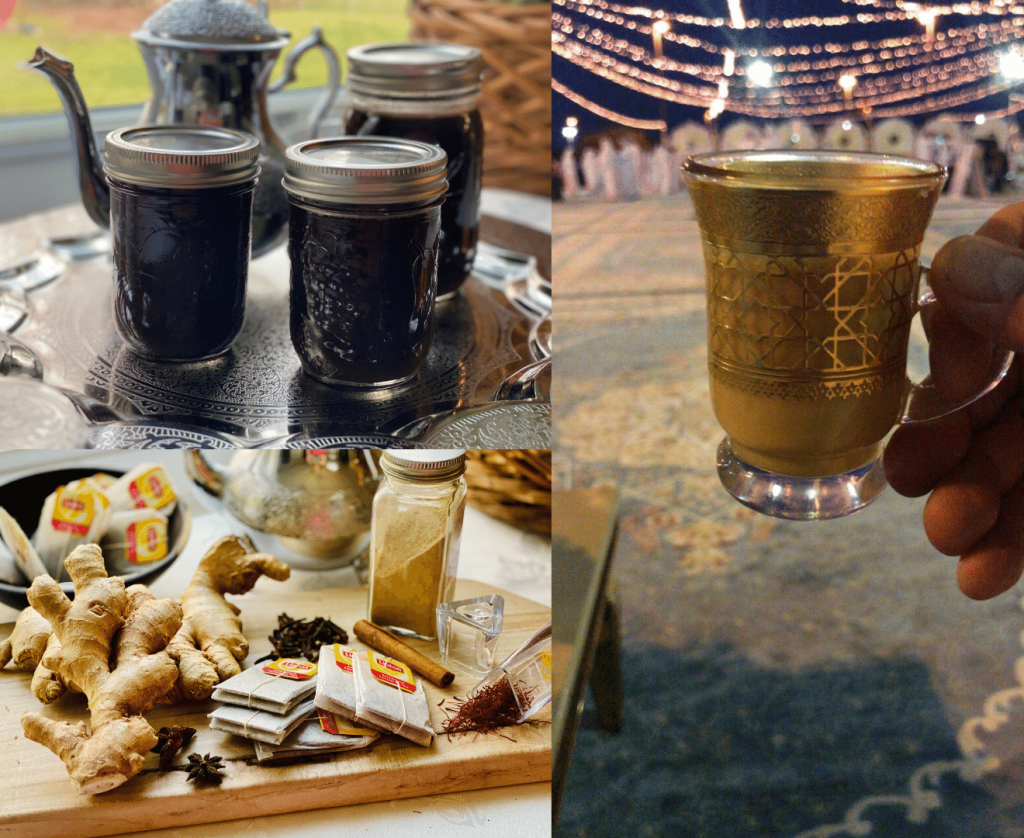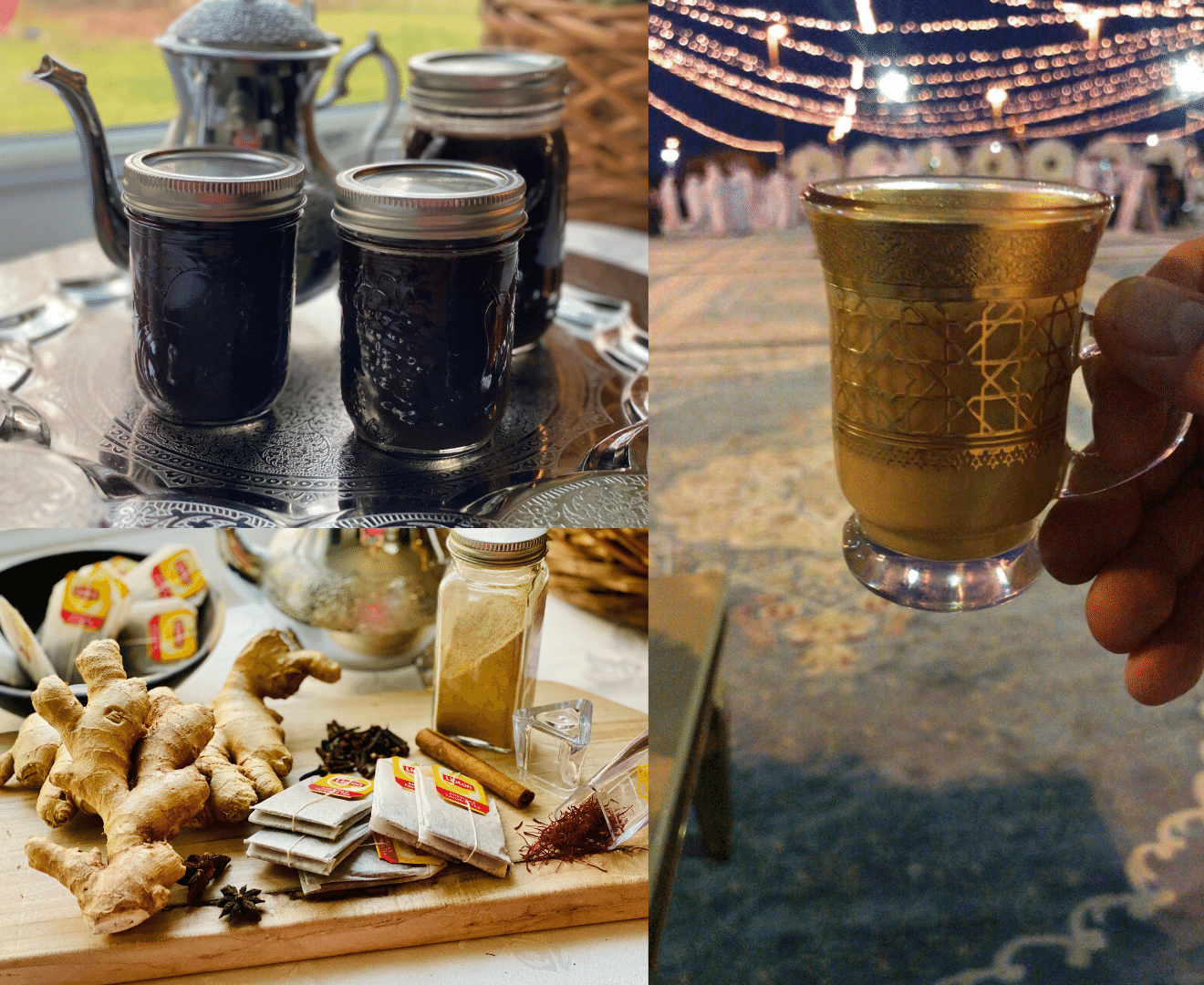 Hospitality at Its finest
I have been mulling over the idea of Karak Tea Concentrate for a few months now and I'm so excited to have finally tried it!
My family and I lived in the Middle East for 4 years. Our time on the other side of the globe had a lasting positive effect on our family. One of the things that surprised and delighted me most about the Arab culture was the hospitality. I did not fully understand hospitality until I was invited to several Emirate homes. They greeted my family and I like royalty and offered many trays of food and numerous mugs of steaming beverages. The women invited me to join them, uncovered their heads, and made me feel like I was one of them.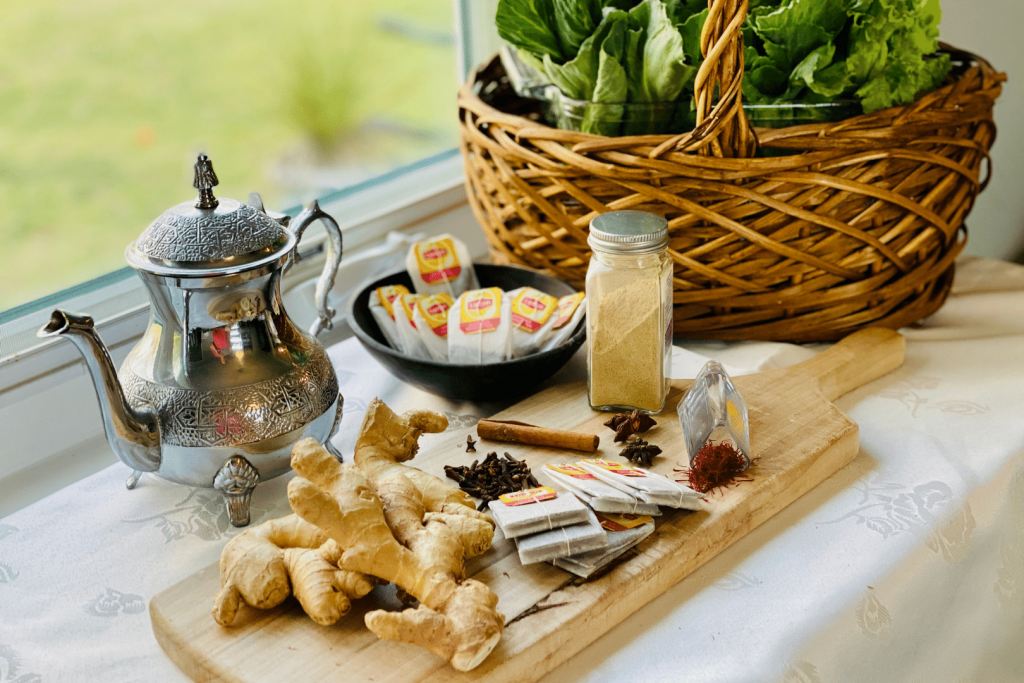 Bringing Hospitality Home
I learned how valued hospitality can make someone feel. Sure, I grew up with American Southern culture. You hear about sweet tea and Southern hospitality, but I'm afraid it's a dying art. I could further elaborate on this lament, but I'll refrain. I'd rather focus on bringing it back- in my home anyway.
Last month, I meditated on the idea of creating a culture of love in my home. I am hosting a challenge this year to read Sally and Sarah Clarkson's book, The Lifegiving Home. The culture of love was the focus of last month's chapter. I haven't yet mastered the concept of creating a culture of love in my home, but I gave it ample brain space. I have concluded that this culture should extend not only to the beloved who live in my home, but also the visitors who enter its doors.
Hospitality in Practice
I had the opportunity to put my money were my mouth was very quickly. One Friday night in February I had just settled down to finish the chapter for a meet up. It had been a long day of substitute teaching, housekeeping and kid-herding. I finally began to relax, took a deep breath and prepared to tuck into my book. My college-aged daughter had other ideas. She called me on the phone and turned my plans on their side. What it boiled down to was she and her friends didn't have any place to hang out and wanted to come over to our house. I had to decide if I wanted to turn down an opportunity to connect with and love on some young people through hospitality or suck it up and practice what I preach.
My husband and I exchanged looks of despair. We evaluated the state of our home- it was a mess. We proceeded to invite my daughter to come over and bring her cronies. I knew that it would take at least 30 minutes for them to get to our house and we bought a little extra time by sending them to the store for some chips and drinks.
Hospitality in a Hurry
Hubs and I went into super-sonic-get-the-house-presentable mode and managed to not entirely embarrass ourselves. We even raided our fridge and were able to cobble together a respectable charcuterie board. When the crowd got here and had settled down to a competitive game of cards, I headed straight for the spice cabinet to brew up a welcoming pot of Karak Tea.
Karak tea is a spiced tea that is commonly consumed in the UAE, it is similar to the familiar chai tea, but is very sweet, creamy and elevated with the flavors of cardamom and saffron. City streets are dotted with Karak tea stands and you'll be hard pressed to find a menu there that lacks it. If you visit an Arabic home, you'll probably be treated to a cup of the steaming delight and you'll never visit a wedding or event where it is not present. Our family grew to love it during our time abroad. When we moved back, one of the first things we set out to do was recreate the drink.
Making Karak Tea
We found that it is essential to have evaporated milk. The required brand in the UAE is Rainbow Milk. Carnation will do just fine if you live in the states. Aside from that, you'll need a strong black tea. Red label is the Emirati favorite, but again, there are plenty of adequate substitutions. The spices that give Karak Tea it's signature appeal include: ginger, cinnamon, clove, star anise and ample amounts of cardamom. A generous touch of saffron is added towards the end. After boiling the spices and tea together with the milk, some water and more sugar than your doctor recommends are added. You are then greeted with a full-bodied, spicy, sweet beverage that is akin to wrapping yourself up in a warm blanket, straight out of the dryer. If you don't know what I'm talking about, you haven't lived.
Well, I've espoused the magic of this warm drink and my visitors from the above story and many other encounters can concur its virtues. However, I have left out a minor detail. It can be a little cumbersome to make. It takes a few minutes to gather all of the spices, measure them out, monitor the boil and make sure that it tastes just right- time that I'd rather spend with my guests. Karak tea is company tea and I'd rather be with my company and not tethered to the stove.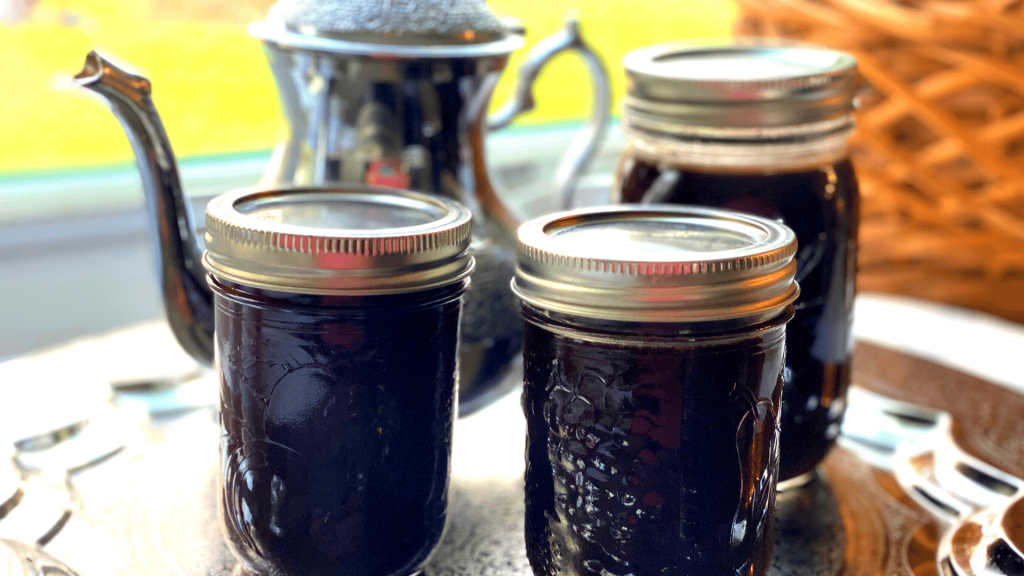 Karak Tea in a Hurry
My niece and nephews came to visit one day before Christmas. One nephew in particular was totally enamored with Karak tea. He wanted to know how to make it, but unfortunately lives in college dorms and would not have been able to make it in his dorm. I started brainstorming how I could prepare Karak so that he and my daughter could have some whenever they wanted. Using powdered tea, spices and milk could work, and I might still try that, but thought that it might have a strange texture with the spices. I considered canning the tea in my pressure canner, and then I thought, why not make a concentrated syrup that they could keep in their fridges and make a cup whenever they wanted? So thus, the idea of karak tea concentrate was born.
The first time I made this syrup, I made it way too sweet. I brewed 5 cups of water over 16 tea bags and a ton of spices. I strained the muddy liquid- it yielded 3 cups, and added 2 cups of sugar. 2 cups of sugar was way too much. You'll want to use a good amount of the concentrate to get the strong tea flavor that is characteristic of Karak, but not sickeningly sweet.
I adjusted my recipe to be made with only 1 cup of sugar. To make the tea, you can use 1/2 a cup of the concentrate, 1/4-1/2 a cup of evaporated milk according to your taste and top it off with boiling water. The result was a beautiful cup of karak tea!
This recipe yields approximately 2 pints of concentrate, which should give you about 8 big mugs of karak tea. If you serve it in small glasses as is customary in the UAE, you will get much more.
Yield: 1 quart
Karak Tea Concentrate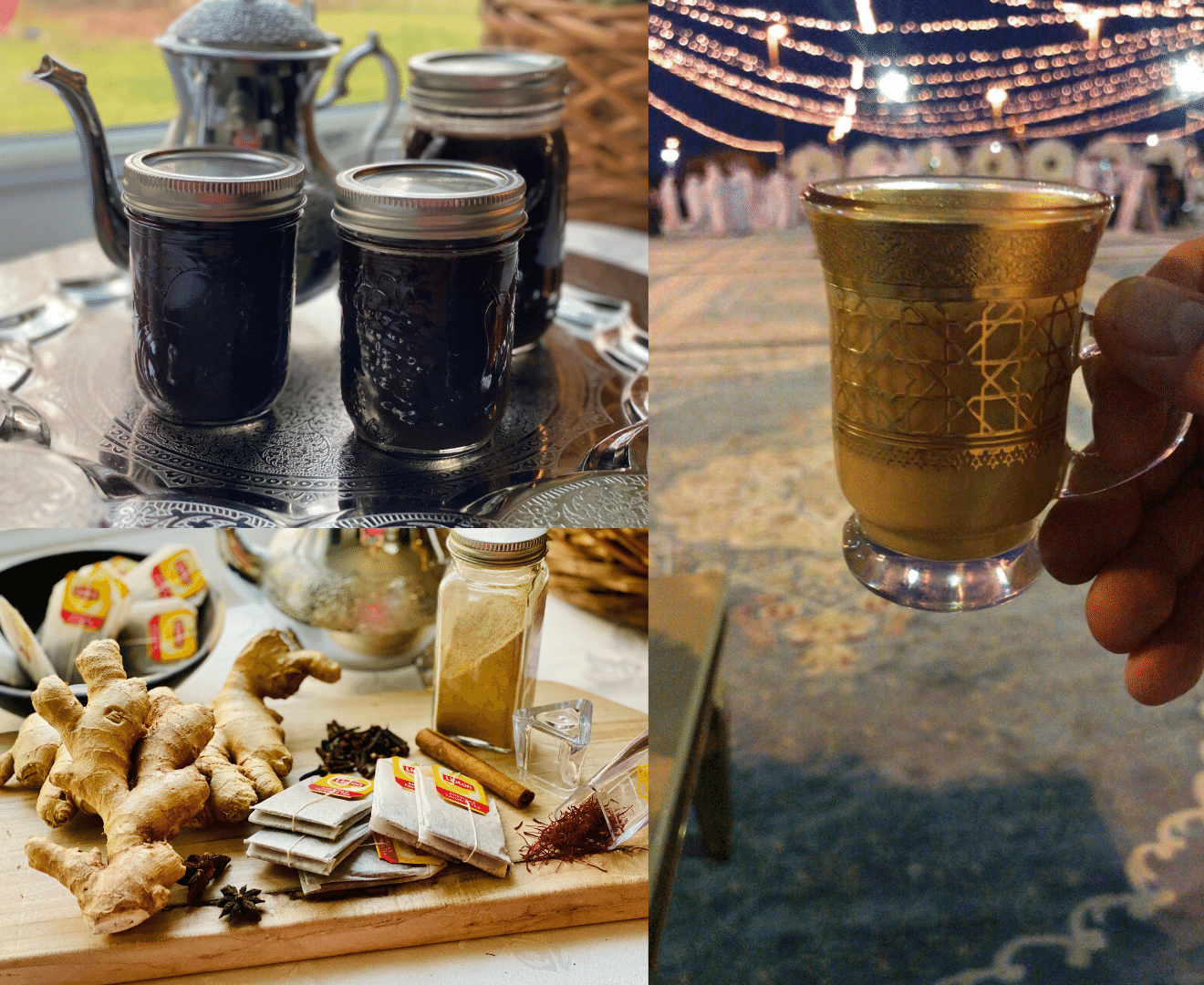 Brew a very strong batch of Karak Tea, presweeten and keep in the fridge for when you want a cup of Karak in a hurry.
Additional Time
10 minutes
Ingredients
16 regular black tea bags
6 ginger slices or 1 inch of grated ginger
6 cloves
8 crushed cardamom pods or 1.5 tablespoons of ground cardamom
a pinch (about 10 strands) of saffron
4 cinnamon sticks
1 star anise (optional)
5 cups of filtered water
1 cup of sugar
Instructions
Pour water into a large pot.
Add tea bags and all spices except for saffron
Bring to a gentle rolling boil and boil for 10 minutes.
Turn off heat and add saffron. Allow to sit and steep for another 10 minutes.
Strain liquid and return to a clean pot.
Add the sugar and gently heat until the sugar is fully dissolved.
Put a container of your choice and when fully cooled, store in the fridge until you are ready to use it.
Notes
To make a 12 oz. cup of tea (note: servings would be closer to 4 oz. in the gulf countries): combine 1/2 cup of concentrate, 1/2 cup of evaporated milk and top with 1/2 a cup of boiling water. You may want to adjust the ratios to your own preferences, but this is what we find is the closest to what we have had in the UAE. For an extra flourish, add a couple of strands of saffron to the top of your karak and enjoy!
Recommended Products
As an Amazon Associate and member of other affiliate programs, I earn from qualifying purchases.
Nutrition Information:
Yield:
8
Serving Size:
1/2 cup
Amount Per Serving:
Calories:

117
Total Fat:

0g
Saturated Fat:

0g
Trans Fat:

0g
Unsaturated Fat:

0g
Cholesterol:

0mg
Sodium:

12mg
Carbohydrates:

30g
Fiber:

1g
Sugar:

25g
Protein:

0g
This nutritional information is based solely on the concentrate and does not include the evaporated milk. Nutrition information isn't always accurate
Concentrates for Other Beverages
I could see this same method being used for other beverages such as coffee concentrates, lemonade concentrates and herbal tea concentrates. If you give it a try, tell me how this turns out! This is not quite as sweet as a simple syrup, but makes a lovely beverage in a hurry. Let me know what you think! Have you ever tried Karak tea?
Keep Dreaming!