This post is a guide to help you in planning a plant sale. It is not a guarantee that it will be profitable, but it is about my experiences as a gardener and grower and offers you some insights to hopefully help you make some informed decisions if you are thinking about hosting your own plant sale. My post does contain affiliate links to some items on Amazon that I have either used personally or think could be of use to you. These links provide no additional cost to you and I may receive a small compensation if you happen to purchase something from their site through these links. It simply helps me to continue providing more helpful content on this blog.
Nothing feels better to me than running out to the backyard with my toes digging into the warm fertile soil, feeling the sun kiss the top of my head and shoulders, and grabbing a quick basketful of veggies for dinner. I love to garden. It is therapeutic and gratifying. I love serving my family something beautiful, nutritious, and delicious that I grew myself. For me, it is the ultimate in satisfaction and nourishment.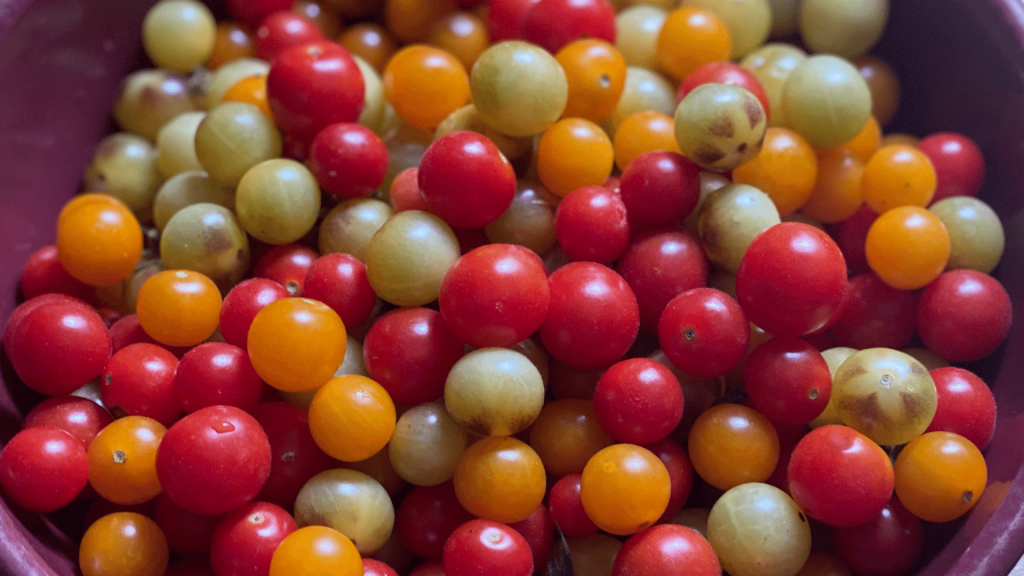 Gardening can save you money
However, getting your garden to a place of abundance and fulfillment takes time, trial and error and oftentimes, money. Once you finally get your garden going and have gained some skills and knowledge, it can actually be a money saver on groceries and almost sustain itself with minimal financial inputs. This of course is dependent on a lot of things- time, knowledge and space to name a few.
Gardening can be very expensive
The meantime can be a challenge for some of us. What if your garden space is not fertile and needs lots of amending (that means adding fertilizer and other things to improve your soil)? Suppose you don't have a greenhouse or sunny south-facing window in which to start seeds. What if you are just getting started and have no tools, no seeds and no infrastructure? Getting a garden started can be very costly. Should this stop you?
Options
If you want to get started gardening you have a few options. One: you can suck it up and eat the cost. Afterall, your garden will be feeding you for many years to come. Nothing in the store compares to the variety and freshness that you can get from your own yard. Second: Start very slow. Begin composting from the get-go, acquire seeds through a swap or local seed library. Cobble your garden together with found materials and utilize your available resources to the max.
I opted for option three: A plant sale. This requires an up-front investment, but all of my costs can be potentially recouped. If I do it again next year, I may even make a profit! My goal is for my garden to be a benefit and resource to my family, not a money pit or a drain.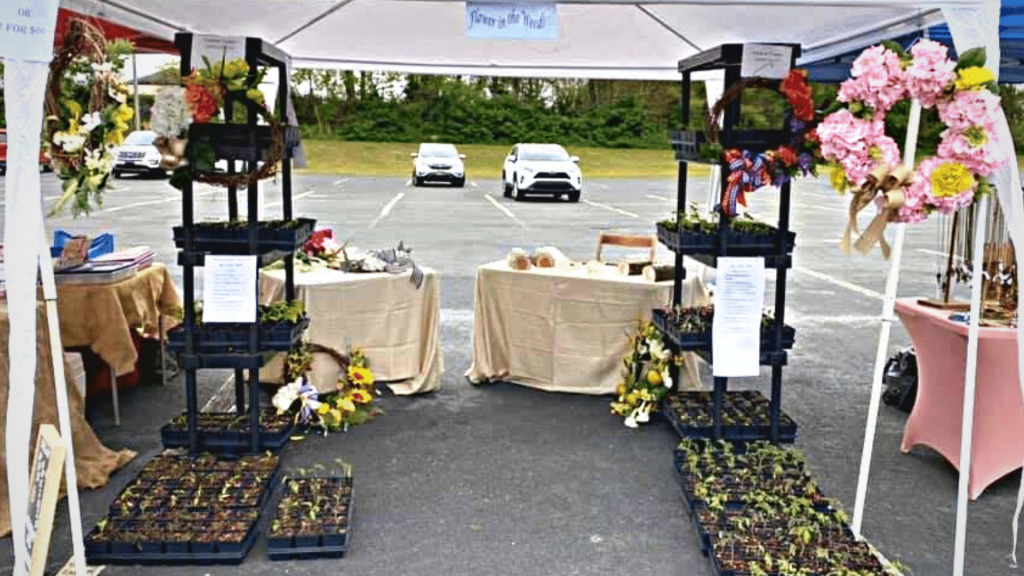 My First Plant Sale- Learning What Not to do
Last year is when I had my first plant sale. I decided I was going to go all Farmer Ashley in my parent's basement (We were still on our house hunt) and way overdid it. I had hundreds and hundreds of plants. That was fine until I potted them up and had 40-50 large trays to manage and move in and out of the house when the weather changed.
Another mistake I made was choosing the wrong potting soil. The stuff I got was very cheap, had large chunks of mulch and drained very quickly. Drainage is generally a good thing, but what happened was all the nutrition washed away and my plants dried out very quickly. They were puny and anemic until they got into the soil of the garden.
A Silver Lining
I did manage to sell about $150 at a small local arts and crafts market in early April, but that barely put a dent into the volume of plants that I had. We closed on our new house in May. I filled my dad's garden and my own with plants, but I still had hundreds! This is where the magic happened.
Meeting my Garden Tribe
I put a listing in my neighborhood for sale group and a local plant exchange that I had this plethora of plants available for sale or trade. A few extra bucks made their way into my pocket and I acquired some very cool perennial plants and rare seeds, but mostly didn't have the heart to charge people for my stunted plants. I gave most away. They were willing to pay, but what I did gain was a gardening community and the realization that next year, I could take what I learned and do it right. There were plant enthusiasts and other gardeners throughout my community and it could easily support a future plant sale.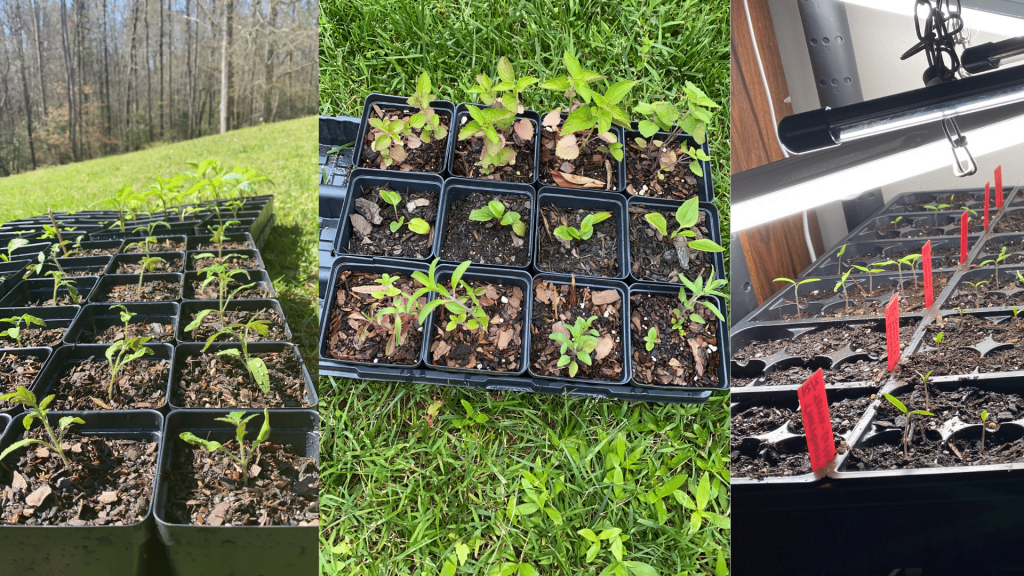 This year will be different
This year, I started far less plants and was very intentional to invest in a good-quality potting soil. I started my plants in plug trays instead of broadcasting them in pans, so I did not have to up-pot them immediately. My plant sale will be at the end of April or beginning of May. I will update you to let you know how it goes. You should determine your last frost date and plan accordingly.
Where to start?
If you are new to all of this, I recommend that you do a ton of research on seed starting and be realistic. Not to discourage anyone who wants to do this- it is very possible to be successful with a plant sale your first year, but I don't want to set unrealistic expectations. I made a lot of mistakes so maybe you won't have to. Later in this post, I will talk about some potential obstacles you might come up against. I even have a free planning guide for you. For now, lets go over the basics.
The Gear
The things you will need to acquire are: a shelf, lighting, containers to start your seeds in, seed starting medium, seeds, liquid fertilizer, containers to transplant your growing plants into for sale, and a potting mix for transplanting. Those are the basic items for starting the seeds and getting the ready to go out, but then you'll want to consider items for the sale itself such as labels for pricing, signage and whatever else you will need for the sale itself. This will largely be dependent on where you plan to sell your plants. Some places you could pick include: A plant sale, farmer's market, Spring or Mother's day arts and crafts market, neighborhood yard sale or you can just host your own plant sale at your house. This is what I plan to do this year.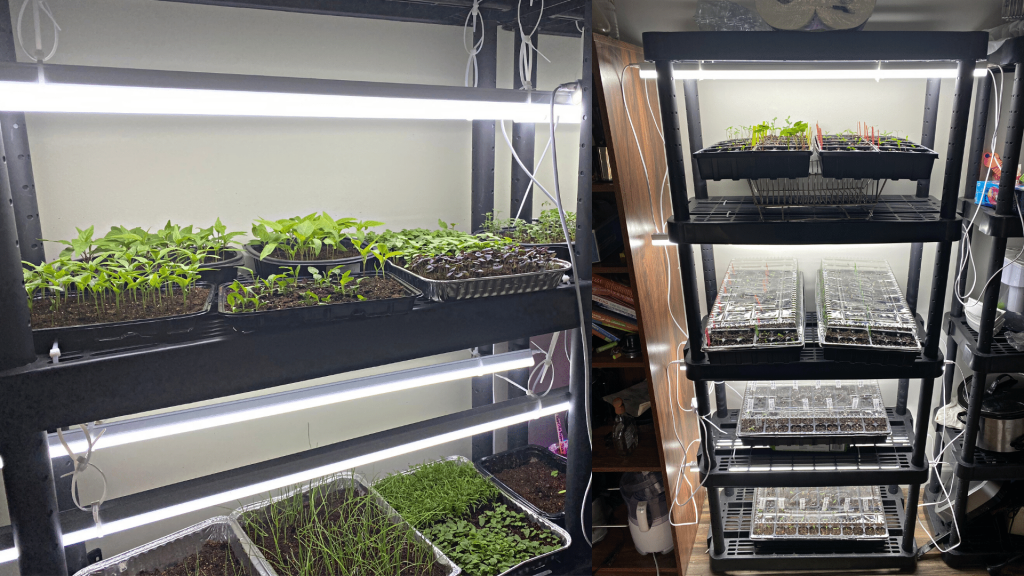 Where to Sell Your Seedlings?
I went to a market last spring. It was a tiny little market at a church. I was the only plant lady and I did fairly well- all things considered. I did not fully appreciate the effort that goes into transporting hundreds of plants in a minivan until I actually did it. Our tent was cheap and took flight like a parachute with the first big gust of wind. I realized that I would try to avoid markets like that in the future. Thankfully for me, I live in a large neighborhood, am surrounded by large neighborhoods and should have no problem selling to my local community straight from my new house.
So, now that we've gone over the basic materials you'll need and where you will sell your seedlings, let's break down some numbers.
Determine How Much You Want to Make
So far this gardening year I have spent the following:
$60 on seeds (This year I ordered from Baker Creek, Hudson Valley Seed and picked up a bunch of random packs from the dollar store for 25 cents each)
$68 on a truckload of composted chicken manure
$36 for plug trays
$48 on blueberry and kiwi plants,
$16 on a huge bag of potting mix
So, to recoup my money I'll need to make at least $228. I also would like to by some stickers to put on the pots that I am selling and I'd like to invest in some azomite clay and greensand for my garden, some supports for my tomatoes, a few random plants and a structure for my compost pile. So lets say my goal is $450. If I sell each plant for $3, I'll need to sell 150 plants.
These are my numbers for planning my plant sale because I already have my shelf, lighting and 3 inch pots with trays to sell the plants in. Thankfully, I have already started about 400 plants and have about 50 more to start today. It is also important to consider that many of these plants are plants that I intend to put in my own garden. So realistically, I will probably aim to sell about 250 plants. So I have a potential profit of $502. That is everything I need for my garden this year with $72 to spare!
If you are purchasing a shelf, plant lights and pots, your goals will obviously be different. Let's take a look at potential scenario for someone who has no infrastructure yet:
Upfront Costs for Planning a Plant Sale:
Basic Infrastructure
Shelf– $68 for the same one I have, you may be able to find one on FB Marketplace or Goodwill for cheaper. I'd recommend opting for the metal shelving if you can swing it. It will make hanging your plant lights a little easier. Mine has 5 shelves.
LED Shop Lights– $60 for 8 4ft. lights. This is exactly what I have. I mounted 2 lights to each shelf with zip ties. I move my plants closer to the light when they are smaller by putting them on books or boxes. Some people move the lights. I don't. You'll want to read up on lumens and a plant's light needs before you choose something. It is really not necessary to spend a load of money on specific plant lights.
Trays, Flats and Pots
Plug Trays– $50 on Amazon. This looked like a good deal to me. It has 9 plug trays and 9 solid bases. You will be able to reuse these for several years. Some people will start all of their seeds in one small flat such as a cleaned meat tray and transplant to something bigger once everything has germinated. I opted for the plug trays this year because it gives me more time before I have to pot up. If the plants grow too big and the roots start tangling together, it can contribute to transplant shock. It also allows you to see exactly how many seeds germinated. I intend to keep my seedlings in their 72 cell trays until I up-pot them, after they have been hardened off. That way, I won't have dozens of giant trays to move in and out of the house if it gets cold at night and when hardening off. More on this later. Greenhouse Megastore and Bootstrap Farmer are also other places that you can find these things. *Also, a solid bottom tray to put your plug trays (they will have holes) in cannot be over-emphasized. You don't want a leaky mess in your house, especially if you are using a fish emulsion to fertilize. Another option could be soil blocking- I have not tried this.
Pots to sell your seedlings from: $0-$100- this can be as cheap or extravagant as you want. My 3.5 inch square pots were purchased in bulk from the Greenhouse Megastore. Some others use recycled containers, Solo Cups and home-made newspaper pots. I wanted my starts to look professional, so I went with the nursery style-pots and flats.
The Seeds
Seeds- $60. This will be largely dependent on what you want. Are you selling organic heirlooms that can't be found in your local big box store? Are you growing seeds for maximum productivity and performance? This will require some research. I HIGHLY recommend that you get your seed order in as soon as possible- January is not too soon. This will ensure that the varieties you want are not sold out. Some places that I have ordered from in the past and have been satisfied with include: Baker Creek, Hudson Valley Seed, Seed Savers, Botanical Interests, Johnny's seeds and MIGardener. There is a lot to consider when picking your varieties, and I will elaborate more on that below.
The Dirt
Potting Mix: $80- This is just an estimate. You will need soil for planting your seeds into and for up-potting. This will be largely variant on where you are, whether or not you go the organic route and whether you start with a seed starter mix or potting soil. I used a seed starter last year- it is very fine and fluffy and provides no resistance to tiny seedlings trying to push up through the soil. The only negative of this is that it also has no fertilizer and you have to move those bad boys out fast. Many professional growers will move their tiny starts into plug trays- which is what I started my plants in this year. They do this so that they do not have dead space in their trays if the seed happens to not germinate.
Any other materials or supplies you may want for your sale- such as bags, boxes, stickers, etc.
So, at the top end, your setup and supplies to start your seedlings for the first year is $418. Of course, there are many, many ways to get these costs down, but this is the number that we will use in our example.
Potential Profits
As you are planning your plant sale, you'll need to do some sleuthing to determine how much to sell your seedlings for. I figured that my biggest competitor is Walmart or Lowe's. They are are selling vegetable seedlings for right around $4 each, give or take a few cents. Some schools and churches in my area also have big plant sales in the spring and I've seen their costs range from $.75 to $3. Those happen early in April and are a one and done weekend event, so the people buying from me have probably lost their opportunity for the cheap plants or want something not offered elsewhere. I plan to offer my plants for $3 each or 4 for $10.
How Many Plants Should I Start for my Seedling Sale?
So, let's go back to our rhetorical grower that needs to make $418 to recoup their total seed starting costs. Assuming that everyone wants a deal and they can only sell their plants at $2.50, that would come to 167.2 plants. While you are planning your plant sale, I'd suggest growing a generous 30% more to allow for damage and plant death- mistakes are sometimes inevitable. Plus, assume that Grower Joe wants 100 plants for himself as well. He'll need to grow approximately 318 plants– 218 for sell and 100 for himself with an extra allowance for Murphy's Law.
Again, if you want to make more for things like soil and infrastructure in your garden, you'll need to plug in your own numbers. Use the following equation ((cost of seed starting setup+additional revenue desired) divided by the amount you think you can get for each plant ) add the number of plants that you want for yourself and multiply the whole thing by 1.3. That is the number of plants that I recommend you start.
What Should I Grow?
This will largely be determined by where you live. I live in the Southeast, in Zone 8. My last frost date is April 4 and I have well over 200 growing days in the season. In April, most people around here are looking for annual heat-loving vegetables, herbs and flowers.
Last year, people were looking in particular for pest-repelling herbs, culinary herbs, interesting tomatoes, peppers and eggplant, plants for the pollinators and vining plants like cucumbers and watermelon.
Also, if you have plants already established like elderberry, hostas, and herbs like thyme, mint, rosemary and oregano, consider taking some cuttings or divisions from those and popping them into a pot. After a few weeks, they will grow roots and you will have new plants to sell.
In the future, I'd also like to offer onion starts and sweet potato slips, but that didn't happen this year. It's a process of refining and I'll get better at this every year as well.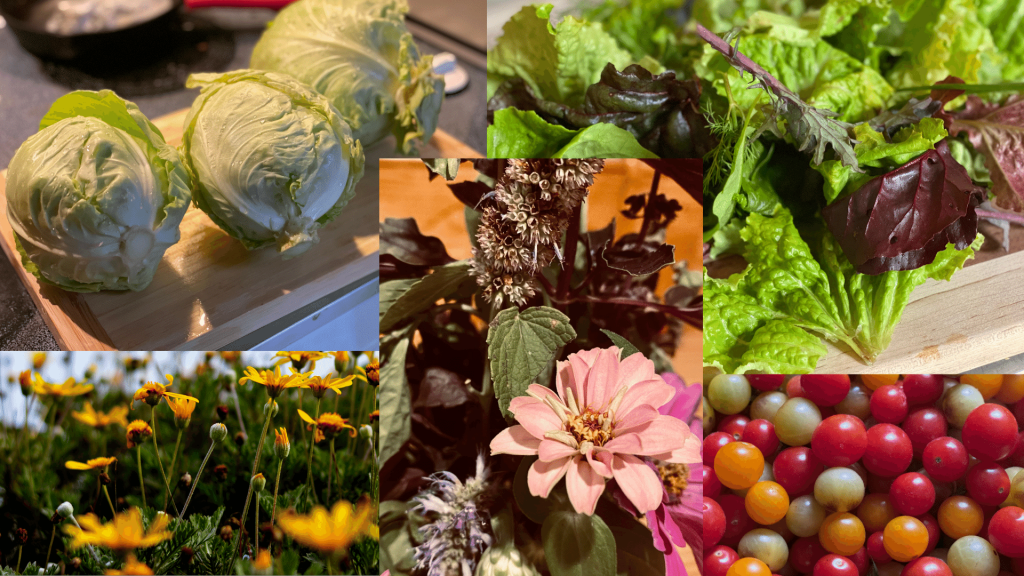 The Ins and Outs of Seed Starting
The purpose of this post is to help you determine the economics of planning a plant sale. I also want to help you determine if it is a good choice to help you overcome the cost of starting a garden.
The actual topic of seed starting is something that I will need to address in a future post. There are many details to consider and much of it is dependent on where you live and the conditions of the place that you are starting your seedlings.
In the meantime, I must refer you to others who are much more expert in this topic. Gary Pilarchik from The Rusted Gardener has a wonderful, comprehensive guide to seed starting.
Seedling Sale Day
So, you have finished planning your plant sale. You've done your homework and you've put in the hours to get your seedlings ready for their market debut. What now? The easiest way to get word out is to put social media to work. Post in local gardening or homesteading groups, your neighborhood group or for sale groups in the area. Treat it like a yardsale and put out signs around your neighborhood the week before.
I'd recommend setting up in your driveway so that passersby can see you. Have your plants organized by type and well labeled. If you want to be extra helpful, make information sheets for each type of plant and if its unique, have ideas for ways to use it.
Also, consider how your customers are going to get their plants home, collect sturdy boxes and trays to have on hand so that they can put them in their car and easily transport them. You'll also need to have change on hand and preferably a way to take electronic payment such as Paypal or Venmo.
Final Thoughts on Planning a Plant Sale
One last word: I have written this post without regard to tax and regulatory considerations. The reason being that it varies so much from place to place. As you are planning your plant sale, you'll need to do your due-diligence to make sure that you are following the laws and regulations for your areas. Usually a simple google search or a call to your local agricultural extension office will point you in the right direction.
There is a lot to consider when planning a plant sale and it can be a lot of work, but it is a wonderful way to pay for your garden this year and for years to come. If you are looking to start some seedlings of your own, why not plant extra and make a profit? It is very rewarding and you are sure to learn a lot!
Keep Dreaming!
Ashley