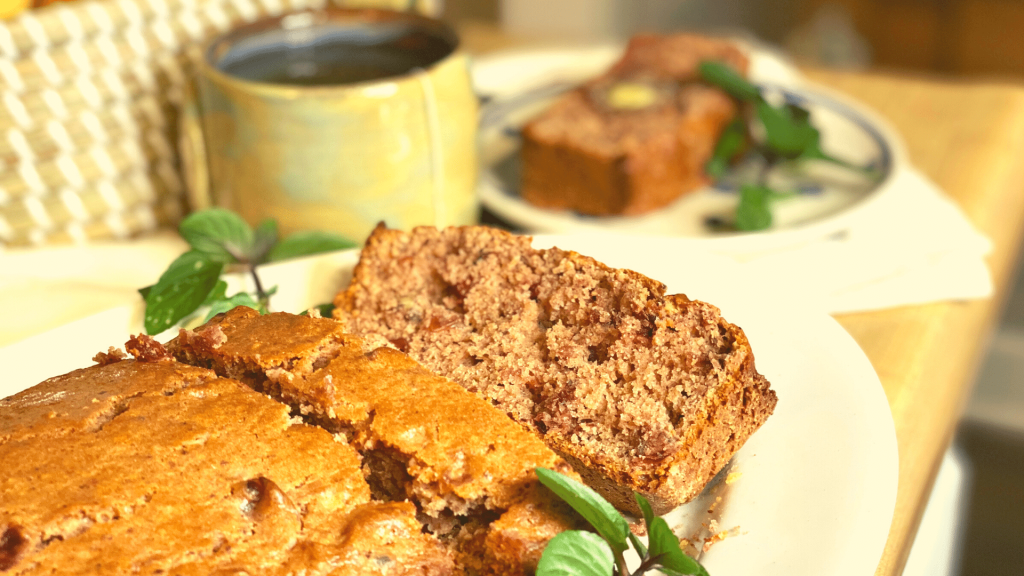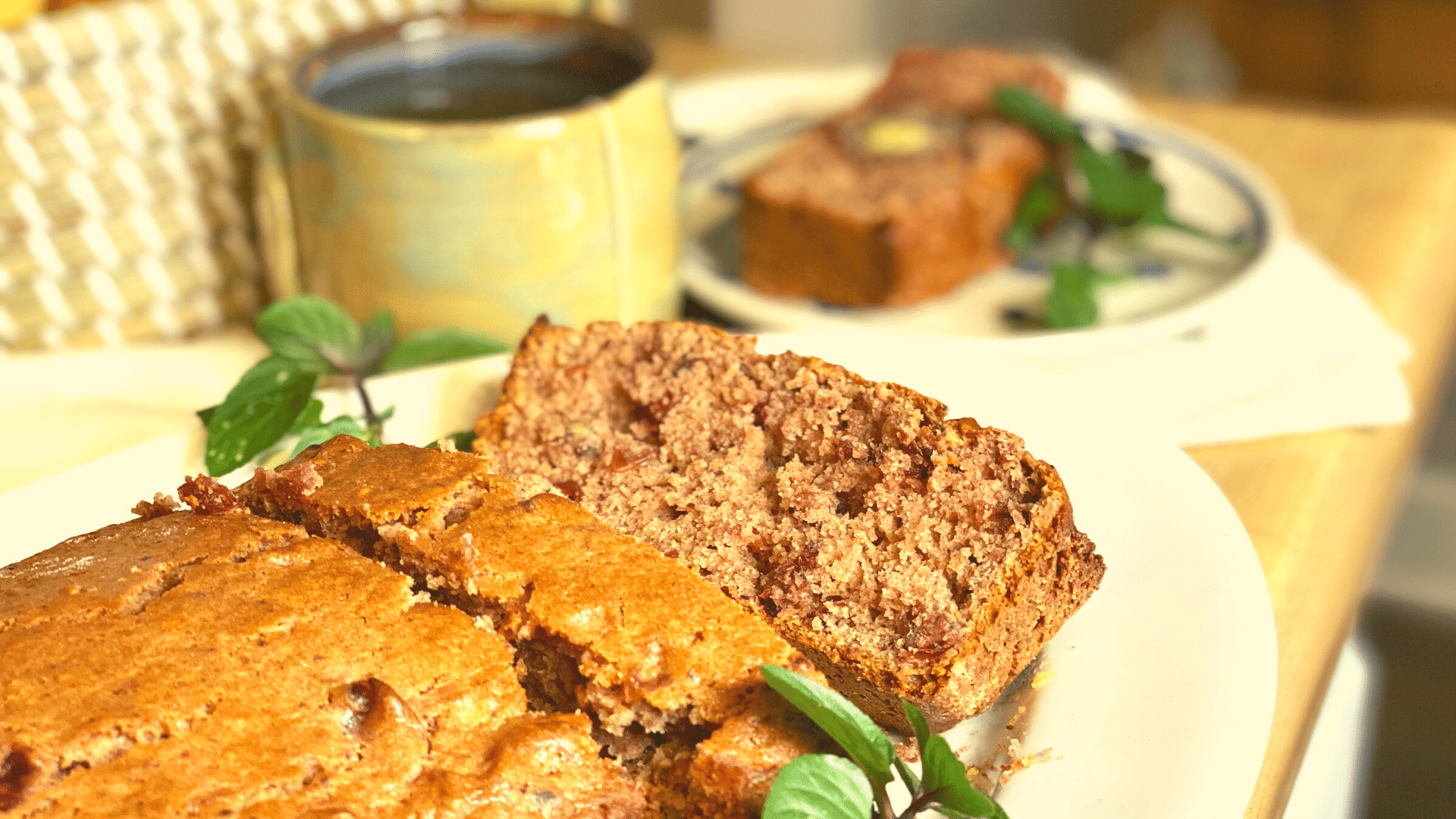 Has your cranberry sauce outlived its place atop the turkey on the requisite post-Thanksgiving-turkey sandwich? Don't tolerate your cranberry sauce, elevate it with this Leftover Cranberry Sauce Gingerbread Cake Recipe.
Car Seat Catch Up
The hour or so after I pick up my boys from school is one of my favorite times of the day. They are always so excited to tell me all about what they learned, what happened at recess, who they ate lunch with and any other small accomplishments.
A Backseat Verbal Explosion
I love when they crawl into the car and their pent up energy comes bubbling out in little stories and fun facts. They often have prizes to share with each other whether its a gift from the prize box, a picture they colored or a paper airplane that they crafted in some rare free time.
The Kitchen Beeline
Our drive home is all too short and we usually immediately find ourselves in the kitchen where their ravenous appetites decide to come to the forefront and their communication skills take a backseat. If I don't have a snack ready to go, I might see some little tempers flare. I try to make sure that I have some popcorn at hand at the least or if I've been ambitious, something freshly baked.
Intentionality
I'm so blessed to be able to work from home and be available for my kids when they come home from school. I used to be a teacher and worked traditional hours and so I know what a treasure these moments are. We had a very hectic and busy life before we sold everything and moved to the Middle East.
When we got there, I had the privilege of homeschooling my kids and being present with them from the time they woke to the time they went to bed. I know it was a gift, but it was also a big adjustment and I struggled with the lack of authoritative structure.
Learning from the Masters
I began to listen to podcasts and read books online about homemaking and creating a good home environment. I eventually came across Sally Clarkson and her book, The Lifegiving Home. That book was a breakthrough for me. Everything I knew that I wanted for my home and family was cleverly and lovingly crafted between the first and last page of that book. Practicing some of her suggestions breathed life into my perspective on creating home.
From time to time, I will revisit it and read it again to set my mind on a healthy homemaking vision. I'm doing that now (Sneak Peak: I'll be inviting you to join me soon!) and one of the things that stand out to me is her beloved ritual of tea time. I love it too and so do my boys. I'm trying to make this a daily habit; tea and homework time with two charming young men. Who could resist that?
From Leftovers to Liturgy- The Power of the Leftover Cranberry Sauce Gingerbread Cake Recipe
This past week, I did not do a big grocery shop as I normally do. Our fridge was overflowing with the leftovers from the Thanksgiving feast. Some people dread leftovers, but I love them! I view their existence as a challenge to my culinary creativity. I had already given the turkey a welcomed makeover with my turkey shawarma recipe.
Now, it was the cranberry sauce who was looking me straight in the eye, daring me to break tradition. Challenge accepted. Cranberry Sauce, you shall become a respected offering for the ritual of tea time- a lovely Cranberry Gingerbread Cake! And it was.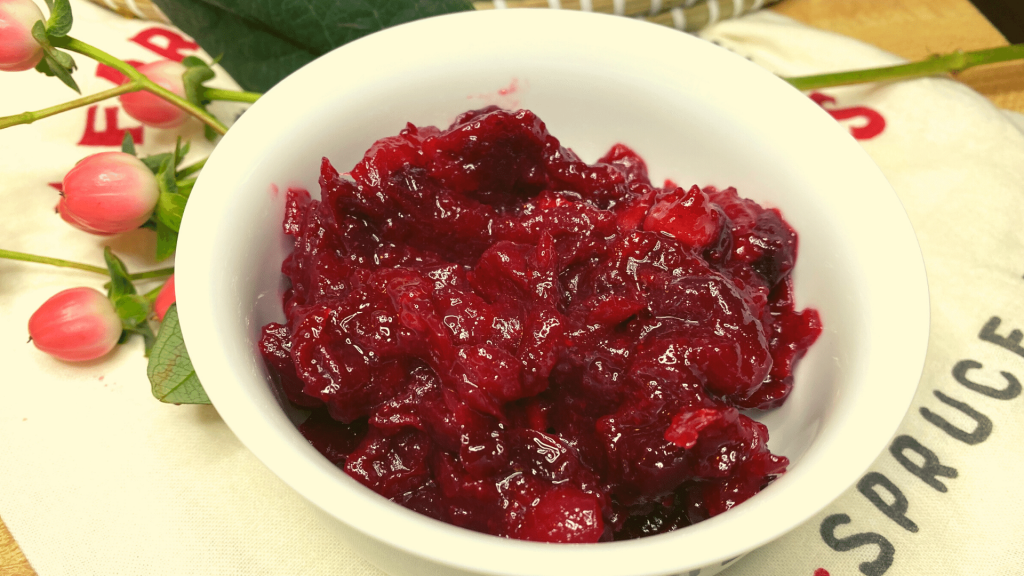 The nuts and bolts…and berries?
My Leftover Cranberry Sauce Gingerbread Cake recipe calls for 3 cups of the good stuff, but I know not everyone was as gung-ho as me. I commissioned my daughter to make the cranberry sauce this year- 3 fresh bags of cranberries-worth.
If you don't have 3 cups of cranberry sauce sitting in your fridge waiting for this opportunity, you can supplement with apple sauce or shredded apples (or even shredded zucchini.) You just want 3 cups of something moist since there is no milk or additional liquid in here (hmmmm, brandy or rum might add something special…)
I cobbled this recipe together from 2 different recipes with my own cranberry twist. The base recipe I used was the classic zucchini bread recipe from the Betty Crocker Cookbook. The second recipe I took inspiration from was a German Gingerbread recipe from this book. The cranberry sauce addition is my own offering.
I replaced the zucchini in the zucchini bread recipe with the cranberry sauce, added pecans and used the spices from the gingerbread recipe. The result was delicious. It yielded me 2 healthy sized loaves and was eaten in 2 days. This recipe is considered appropriate for breakfast, tea and dessert, or so say two young men who consider themselves to be authorities on the matter.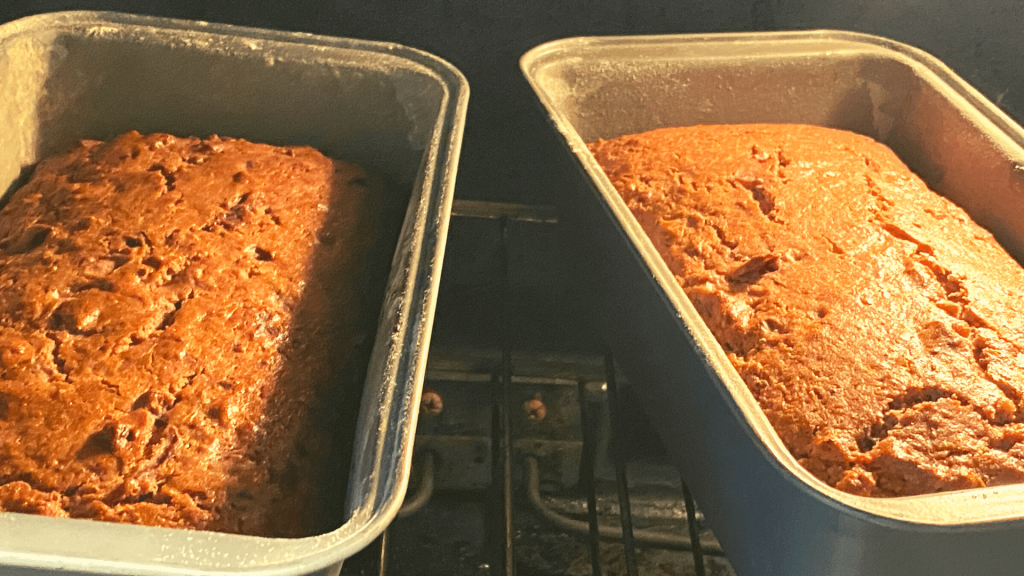 I have not tried to make my Leftover Cranberry Sauce Gingerbread Cake with the canned stuff. If you care to go there, please do inform the rest of us on the results. I'd love to know how it turns out! Without further adieu, your recipe:
Yield: 2 loaves, 12 slices each
Leftover Cranberry Sauce Gingerbread Cake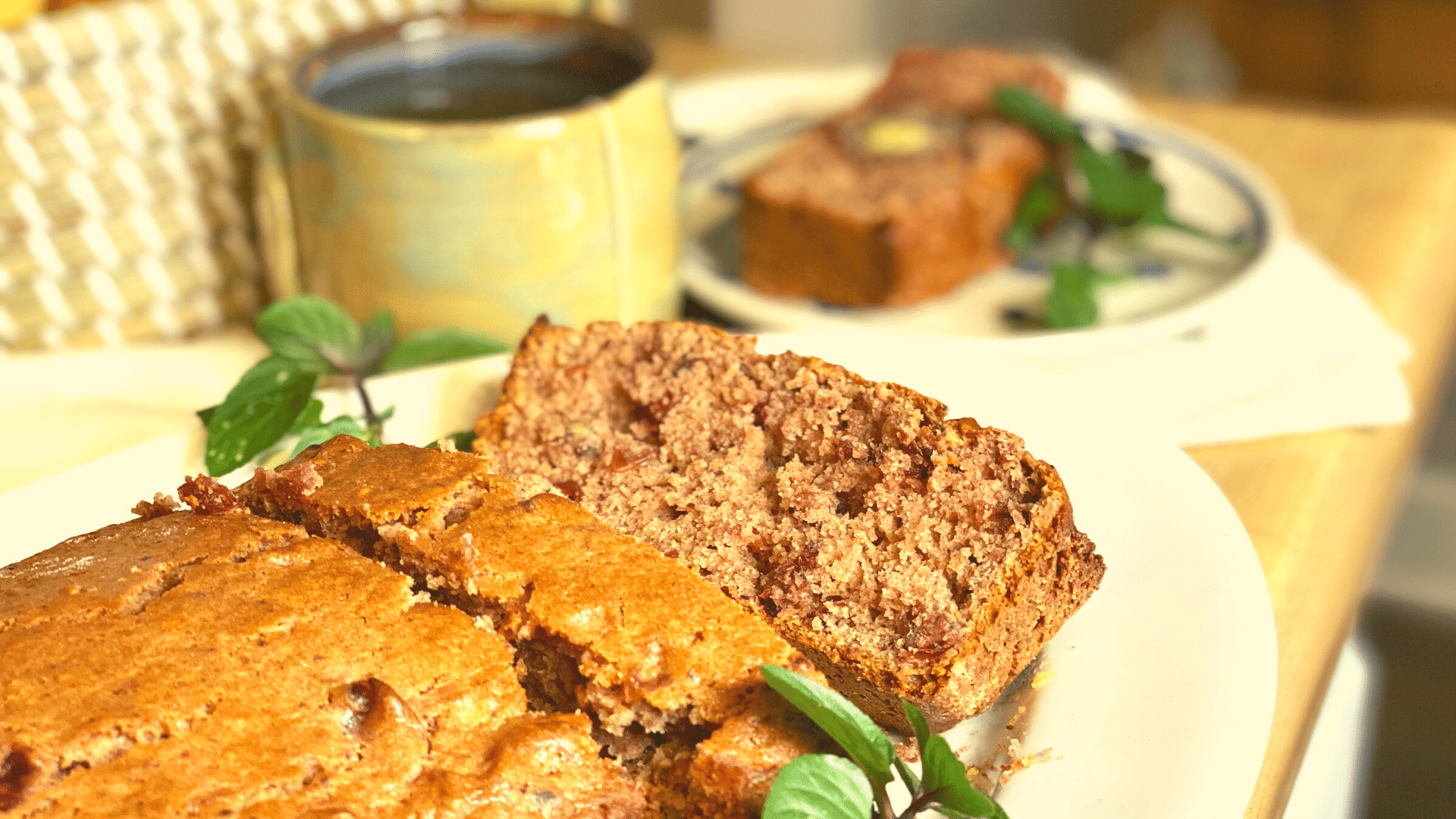 This moist and delicious loaf cake is the perfect way to use up your leftover cranberry sauce.
Ingredients
3 Cups of leftover cranberry sauce (can be supplemented with shredded apple, zucchini or applesauce to make 3 cups)
1 cup light brown sugar
2/3 cup white sugar
2/3 cup of oil (I used melted coconut)
2 teaspoons vanilla extract
4 large eggs
3 cups all-purpose or whole wheat flour
2 teaspoons baking soda
1/2 teaspoon baking powder
1 teaspoon salt
1 Tablespoon ground cinnamon
1 Tablespoon ground allspice
1/4 teaspoon freshly ground nutmeg
1 teaspoon ground ginger
1/2 cup chopped nuts (optional, but advisable)
Instructions
Move oven rack to low position so that the tops of your pans will be in the center of the oven.
Preheat to 350 degrees fahrenheit
Grease the bottoms and sides of 2 loaf pans with butter and coat with a dusting of flour.
Mix cranberry sauce (or cranberry mixture), sugar, oil, vanilla and eggs in a large bowl. Stir in remaining ingredients except nuts. Stir in nuts last.
Divide batter between the two prepared pans
Bake 8 inch loaves 50-60 minutes, or 9-inch loaves 1 hour 10 minutes to 1 hour 20 minutes. (I didn't find that mine needed this much time, just keep an eye on it towards the end.)
Cool 10 minutes on a wire rack, loosen sides of loaves and remove loaves from pan. Place right side up on cooling rack and let it continue to cool completely before slicing (2 hours), that is, if you can.
Serve with butter, honey, and a warm cup of milk tea. Enjoy with some nice company.
Keep Dreaming!
Ashley
Shop this Post
Betty Crocker's Cookbook, Bridal Edition